You don't need for your home to be LISTED for sale. You need it SOLD!
Read on to find out more about BloodhoundRealty.com and our Strategic Marketing Plan to get your home sold for the most money in the least time.
Why do we do so much more for our sellers than the Realtors we compete against? Because only a thorough, consistent marketing plan works in this real estate market.
How do we know our marketing tactics work? Because we test them constantly in the marketplace, constantly honing our tools and adding new techniques as we perfect them.
What's in it for you? Results. Our houses sell where others languish on the market for month after month. We get more money for our sellers, faster, with less hassle -- and less heartache.
How do you know you can trust us? In this web site we will back up everything we have to say -- in immense detail if you want that -- but you always have the power to fire us if we don't live up to our promises.
There's no such thing as a "no risk" way to sell your house. But our Strategic Marketing Plan is your best assurance that your will home will actually sell in this market. Click one of the following links to find out...
Are we alien Realtors from another planet...?
As you read this web site, it may seem like we're the Realtors from another planet. A custom, full-blown web site -- with dozens of photos, an interactive floorplan and interactive remodeling --
for a house?
Custom-made yard signs just for your property? An elegant custom coffee table book for and about your home?
Who does things like this?
So far, just us. But we promise you we are not aliens. We are simply taking time-tested marketing principles and applying them to the job selling your home. But the fact that no one else deploys these kinds of marketing techniques ought to be enough, just by itself, to sell you on our way of doing business.
But we don't need you to take us on faith. We know we're better -- but we also know we're not for everyone. Even with everything we do, we don't get every listing we would like to have. But we turn down more far more listings than we take. We always want to do our very best work -- but we only want to do it where our very best work can make a decisive difference.
Lend us your mind and we will conceal nothing from you...
Follow those four links above to find out who we are and how we work. The toolbar at the top of every page will take you to our main web site, where you will find a lot more information. We live completely by Web 2.0 standards, so we conceal nothing. If you want to make contact, there's a painless little contact form in the sidebar to the right. Or pick up the phone and call us at 602-740-7531 (or 1-800-508-5430 long-distance).
Unfortunately, Realtors have managed to earn the reputation of being pushy, stupid, lazy and cheap. With everything we have within us, we strive to be the opposite of those awful attributes in every possible respect. All we're looking for, for now, is the opportunity to demonstrate to you that we can and will do a better job of selling your home -- a much better job. If you will give us a few minutes of your time -- here on this web site, on the phone, or in your home -- we'll show you a whole new approach to selling real estate...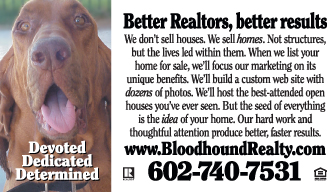 PS: We love serious minds. We know your time is at a premium, and we're very grateful to you for lending us your thoughtful attention. Even if you're not planning to sell right now, we hope you'll keep us in mind. If you like, we'll bring you a refrigerator magnet and some other cool stuff, so you won't forget us. And if you should happen to know someone, a relative, friend or neighbor who is contemplating a move, it could be you'll be their hero and ours, too, if you should bring us together.